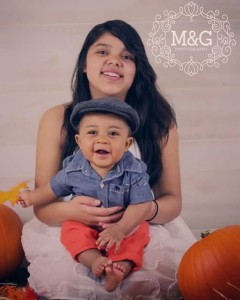 I was 19 years old when I gave birth to my daughter Elizabeth in October of 2000. It was so easy to get pregnant that I didn't think twice about having another child when the timing was right. Soon after marrying my husband DeKendrick in November of 2011, we decided to focus on growing our family together. We knew we wanted to have a baby, so we started trying to get pregnant right away.
After several months of trying to conceive with no success, we sought the help of Dr. Peng and found out that we had secondary infertility and fell into the "both partners" category. DeKendrick began taking medications to increase sperm count and I discovered that I had an ovulatory disorder and scarring as well as underlying health conditions that all played a role in our inability to conceive as quickly as we had hoped.
In addition to being diagnosed with lupus several years ago, I have a hyperactive thyroid and hemolytic anemia. After receiving permission from my other doctors to undergo infertility treatments, we met with Dr. Peng to discuss our options. As a first step, I had surgery to remove scar tissue in my uterus. DeKendrick and I decided that IVF offered us the best chance of having a baby and it worked on the first try. It was an emotional rollercoaster ride for us this past year, but knowing where we are today takes that all away and fills our hearts with so much joy.
My ovaries responded well to infertility medications, and Dr. Peng was able to fertilize my healthy eggs using intracytoplasmic sperm injection (ICSI). Two embryos were implanted in my uterus and within two weeks of IVF, we learned that I was pregnant. We couldn't have been happier.
Our infertility journey was not without its struggles. I experienced some vaginal bleeding on Father's Day and was rushed to the hospital and put on bed rest for a month. An ultrasound revealed one healthy heartbeat, so I suspect the bleeding was the result of passing the second embryo. Other than that very scary time for us, it was smooth sailing. On January 24, 2014, we welcomed our son, Jayden Anthony. Along with big sister Elizabeth, our family is now complete. I would advise anyone experiencing secondary infertility to seek the help of Dr. Peng. Give it a try. Hang in there and never give up hope.
Jasmin G.